We are a small group of animal lovers based in the UK, most of whom have adopted dogs from Romania. Primarily we support a number of different rescuers saving lives in areas such as Constanta, Tulcea, Craiova and Bucharest, but we do also help a small number of UK dogs that need to be rehomed. Our rescuers in Romania save dogs from the streets, before the brutal dog catchers get them, or sometimes from the kill shelters. They save both dogs and cats. The Strays are then placed in safe shelters, for which we help to raise foster funds, money for food and money for veterinary treatment, as well as paying all prep costs for them to travel to the UK. Our aim is to find loving 4ever homes for all the Strays we help, so we take you through a rigorous adoption process and, if you are successful, we guarantee rescue back up. You can rest assured you will always be able to get support and advice.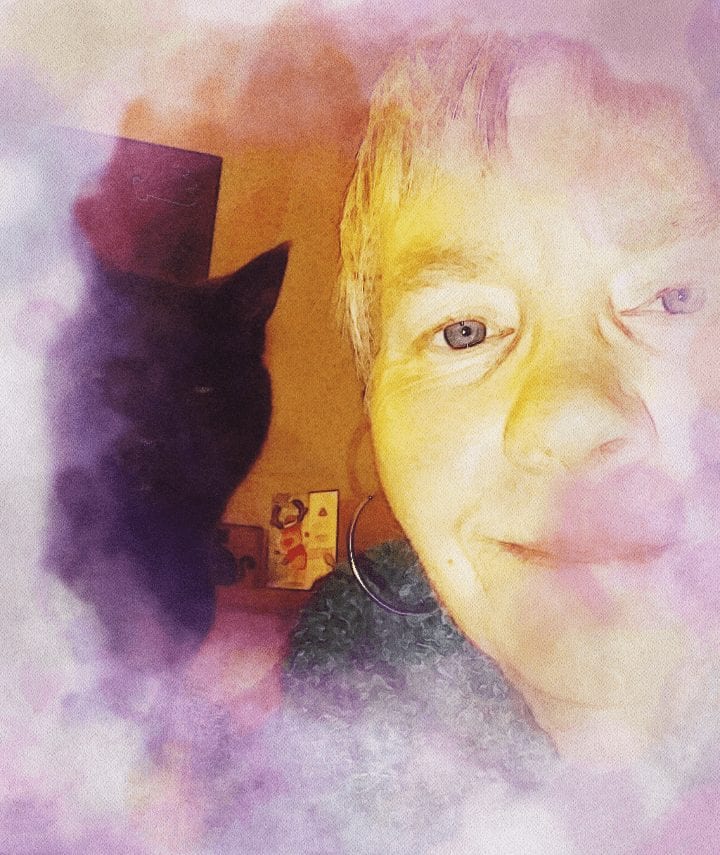 Tina Collyer lives near the sea with her 2 Rommie dogs, both rescued by Gabriela, and her cat from the RSPCA. She has been adopting rescues for almost 30 years, although only became aware of the plight of animals in Romania in 2018 when she adopted her first Rommie, Elsie. Sunny followed 6 months later.
Geo Cava originates from Constanta but is now living in the UK. She has an insider's knowledge of the plight of animals in Romania and rescued her first Rommie, Ben, a puppy who had been hit by a car and whose leg was broken as a result. She and her hubby found him the necessary veterinary help and he's now living the good life in the UK, although he's a bit unsure of her cats!
Mauro Orru lives in the North with his 7 Rescue Rommie dogs. He started slowly, with Liza, followed by Loki, and then by Lana, who had been run over as a puppy. He saw her story on our Facebook page, and, unable to ignore an animal in need, he adopted her. She loves her life with her 'siblings'. Mauro has since gone on to adopt another 4 dogs, Lucy, Lexi, Miki and Piki. All are very lucky puppies.
Jay is living in the South West of England and is currently studying Psychology. He has a Romania rescue cat and two dogs. Jay wanted to be a therapist but now is having second thoughts and wondering whether to go into dog training!
Chelsea is living in the North West of England and runs her own small business. She has a Romanian rescue dog called Rupert as well as a house rabbit called Cash. She loves a good cup of tea and a slice of cake.
Nikky works in administration in Children's Social Care for a local authority. She is currently training to become an IMDT Accredited Trainer so that she can help those rescue dogs that need it. Elmo and Maddox have already benefitted!
Olly is a Northwest based IT manager who enjoys medieval reenactment. He specialises in leather, and aims to make a suit of boiled leather Armour in order to take his rescues, Elmo and Maddox, onto the battlefield!
Tina lives in the South West of England with her husband and 2 dogs – Buddy the Schnoodle and Bella, who was rescued by Stray2me. When not crunching numbers at the local University, Tina can be found either walking the dogs, crafting, or socialising (normally with a gin in the Tiki hut in her garden!)
Andrea Oltean is originally from Transylvania, Romania, currently living both in Bristol and in London. Not only does she volunteer , but she has two jobs! She has a cheeky cat named Tomas who she's adopted from a lady whose cat had kittens in London. Andrea knows the situation of strays in Romania and is happy to help in any way possible.
Sam has been volunteering with Stray2Me pretty much from the beginning. She's a trainer and behaviorist accredited with IMDT, DTC, ICAN and PPN, working with dogs for the best part of 10 years. She's worked with the RSPCA, worked alongside scent tracking dogs, and worked with local behaviorist, trainers and dog walkers before running her own business.
Sam lives with her partner, son and a crazy Labrador called Ozzy aka ozzbozz. He's 4 now and he still manages to teach Sam something new almost every day
Sam and her partner Tom live in Staffordshire. They adopted Gina and Captain, two lovely older dogs who had been searching for a home for a while. Sadly, Gina died, so Sam decided to foster and has since become an invaluable member of the team. They currently have Captain and his new friend Bertie, though they are always looking to see who else they can help.